Active Links: 1089
Pending Links: 33
Todays Links: 0
Active Articles: 264
Pending Articles: 16
Todays Articles: 0
Total Categories: 9
Sub Categories: 4
Yen Minh: where green highlands
Date Added: November 17, 2011 09:36:58 AM
Author:
Category: Other
Yen Minh has haunted me since then, by image mist around the cloud forest, the mountains far away and faint curved path does not count how many corners after another sleeve joint.

1 Yen Minh City to Ha Giang, about 100km north-east, the road running from the Personnel Exchange 4C to the city center districts across three communes: White Landing, Na Khe, TB and comb.
At the Yen Minh, still green and growing mountain halfway across the sky, overflowing valleys, looks different from the rocky gray cat ears while leaving the town towards the Dong Van.
4C through Yen Minh Tang glance very "healthy", but it's hard drive to see that the measured dangerousness. The road soft as silk squeezed around a mountainside, nestled under pine trees, green mountains so blue, the house is pretty small cliff on the back of the mountain.
Looks peaceful and quiet of Yen Minh easy driving excitement of travel, vehicle speed in calm blue so maybe just increase gradually. Sometimes the fog of fantasy, "steed" just come and go, Sharp and Sharp steering and startled to say when caught Occasionally a car in the opposite direction.

2 Windy was the first show me a green prairies and in Lao Chai, Yen Minh district center about 12 kilometers down the road toward the plain.
If this goes on behind the prairie turning quite a sight, not easily seen. This is an extremely romantic place and ideal for people "Display Options" stop coffee, gossip and music.


It is simply a green grass slopes, steep tilt tilt down the valley. At some depth below the house is nestled under a small bamboo forest bamboo or later the pale rustic, trail walk quietly behind the bamboo forest, walk to another house of Mongolia.
One other house in the middle a red arrowroot garden, where every few minutes to see someone come out come in, quietly, gently, mysteriously.

With a population "Display Options" Prairie has become a must stop on the road traveling through Yen Minh. A friend of mine had the place to go 40 km road is determined to return to her quest for gentle relaxing moments.
These photographs became steppe photo "crucifixion" of Yen Minh - where the bamboo forest, pine forest, blue sky, the path and the wall of the house. A Yen Minh peace and quiet whisper quiet, to upset all our hearts.
3 Do not know how many times I've stopped at his prairie. There was a rush because of storms, fog, I just could stand on the edge of the road and see a soggy wet prairies. Her little boy Mongolian grazing cattle, goats passing, curious look I chuckled when I asked them what to eat lunch today. Only white rice wrapped in banana leaves and water. I give them a little candy, something spicy spicy rise in the eye.

There are also times when we stop at the Prairie, a long long time.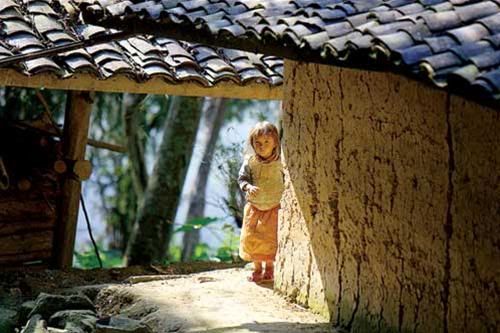 No one goes from the center of Ha Giang Dong Van to the first place with about 150 km road that takes up to 12 hours in case things go. That time, I and my companion had to stop at the prairie for more than half of the day we boiled coffee in the quiet music, chat with old men, and women and kids just out from hiding out in bamboo forest, where the walls or corners, the pale crimson flowers arrowroot.

4 I lie on my smooth green grass. Wind blew the bamboo forest rustle.
Yen Minh sky blue short break. Shadow of the trees against the sky in pride, creating a beautiful frame. Not in vain but beautiful prairies, but the more distant becomes the venue ideal for wedding photography how couples Hanoi. Not for no reason that every time you go to Dong Van certain I stop this place, even a few minutes.


And really I always remember the Yen Minh, with discrete fragments of memories.
A fair Yen Minh there late Sunday afternoon to numb the cold, the eyes of young chickens to embrace the market, laden with baskets of firewood on their shoulders obsession. A green prairies to any heart, green mountains, forest green, sunny yellow and purple shirt ...