Sapa lies on the side of Hoang Lien Son Mountains, 333 km northwest of Hanoi, close to Chinese border. This area has spectacular scenery, many natural sites and is home to diverse mountain tribe communities; especially, it is also the starting point for those who want to conquer the top of Fansipan Mountain, the highest mountain in Vietnam at 3,143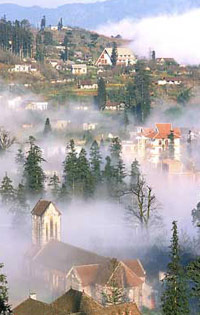 m.

Getting to Sapa from Hanoi, it is very convenient to take a train to Lao Cai and then continue with a 45-minute drive to Sapa. Alternatively, adventurers can reach Sapa by road.
Shrouded in mist, Sapa was originally a hill station built by the French in 1922 for summer retreats from Hanoi. Here, people can relax and enjoy the breathtaking views. The best way to get around Sapa is to walk and almost everywhere it's steep. Besides, Sapa is also a good base for trekking, climbing, cycling and motorbike trips to explore the mountainous region as well as Montagnard villages. Visits to markets are also a highlight of most trips.

Sapa tours offer:
Trekking tours, home stay with minority peoples
Sapa markets tour such as Bac Ha and Can Cau weekend markets
The best time to visit Sapa is March and May or mid-September to early December when the weather is pleasant. Before or after these periods, it is different experiences. The winter is cold and brings fog and drizzles while the summer is warm and has frequent showers. The rainy season starts in May through September.
In Sapa, you will meet ethnic vendors, who keep following you to sell handmade articles. It is fine to buy, but if you are not interested, you might want to take care to show lack of interest. Also please note that it'd better to separate handmade articles within your bag preventing some color bleeding as those beautiful articles are used natural dyes. Riding on motorbikes around Sapa is interesting, adventurous and becomes a popular option. However, just do it with experienced riders or a tour guide.