Danang Travel Guide
The regions surrounding Da Nang (My Son, Quang Nam) was founded by the Cham practicing Hindus most possibly 3000 years ago, serving as the capital city and centre of the Hindu Champa Dynasty. Vietnamese invasion into the region in the 17th century significantly halted Cham development and during the Vietnam War, vast monuments and buildings were bombed. Given Danang was the first point of colonial invasion, many vestiges of French architecture are present in the historic buildings. The city has grown rapidly in recent years, and has a 2008 population estimated at 900,000. Until recently, this growth was mostly outward and infill, but now there are high-rises going up. There are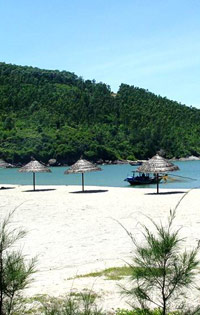 many remnants of the "American War" leftover in Da Nang. Each bridge has a different builder, whether they be French, American, or Vietnamese. On the way to the popular tourist spot; China Beach, the ruins of a military base remain in the form of helicopter hangars, although these are now more easily spotted at the airport, which serves both civil and military flights.
The city is often overlooked by tourists but is one of the most friendly to backpackers in all of Vietnam. China Beach, a former R&R destination for American G.I.'s, is now home to a small community of guest house owners, marble statue shops, and other various trades. Some of the most beautiful and isolated beaches in Vietnam are found here, among some of the friendliest people. This is a must stop for the budget traveller.
Until relatively recently, Da Nang was somewhat hostile to foreigners, a consequence of the attitudes of those who then controlled the provincial government. In the early 90s, however, this changed, and since the late 90s the provincial [actually autonomous city] government has been enthusiastically pursuing foreign investment and developing infrastructure. Da Nang has some of the best roads in the country -- the coast road is at least four lanes from northern provincial boundary to southern provincial boundary. Compared to either Hanoi or HCMC, traffic in Da Nang is always relatively light, although huge trucks blare along every now and again and there are brief 'rush hours.' Development is visible and rapid; the city has expanded tremendously in the last ten years, and several multi-story buildings as well as more beach resorts are under construction, and there are now at least three large supermarkets as well as a Metro wholesaler. This also involves redevelopment of areas near the city beaches across the river, with whole blocks of old housing being razed and new roads installed and luxurious villas constructed.
The downside to the very laid back, less serious and frenetic, aspect of Da Nang is that even locals frequently complain that there is nothing to do except drink, which they do a lot. This is not really true -- there is a zoo, a soccer stadium, many tennis courts and pool halls, several large modern discos/night clubs, etc., and of course the beaches and Son Tra peninsula. However, it is also true that coffee and beer drinking are the most common leisure activities of most local residents.
The hottest months of the year are June, July, and August, when the temperature can get to as high as 40 degrees Celsius, and it is generally very dry. There are usually tropical storms in October and November.