Deep in the Mekong Delta, Chau Doc town is 280 km (174 miles) south-west of Ho Chi Minh City close to the Cambodian border. Such proximity to Cambodia has been nurturing the eclectic mix of Cham, Khmer, Chinese and Vietnamese cultures and historical richness. Chau Doc is near the picturesque Sam mount where the Sam mount lady is worshipped. The Sam Mount Lady Ceremony is held every April of lunar calendar (May) every year.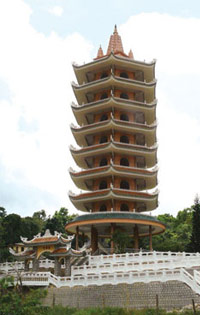 A highlight of a visit to Chau Doc is a boat trip on one of the small paddle boats that collect near the western end of the park to many floating raft houses and fish farms. A second attraction, just outside Chau Doc, is Sam Mountain -- more of a hillock in fact -- which has reasonable views over the surrounds. The views are pretty rather than spectacular, though when combined with a visit to the pagodas around the hill's base, this makes a worthwhile afternoon jaunt. Chau Doc is also the closest large town to the Vietnamese/Cambodian river border crossing. If you're heading to or from Phnom Penh by boat, you'll pass through Chau Doc, so try to allow for an overnight stay. Cruise the Mekong River between Chau Doc and Phnom Penh takes 5 hours.
Trips to Mekong Delta are suitable all year round but the best time is the monsoon from June to September.
Bring along camera, hat, sunscreen and insect repellant. Should keep your camera in a plastic bag when it is not in use as it is easy to get splashed by the wake of motorized boats.