Bac Ha is truly a destination of adventure and hill tribe markets. The region is really famed for its beautiful rugged karst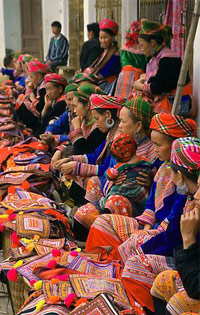 mountain range, exotic cultures and green development. This is home to 10 Montagnard groups : the colourful Flower H'mong are the most visible, but other groups include Dzao, Giay (Nhang), Han (Hoa), Xa Fang, Lachi, Nung, Phula, Thai and Thulao.
One of Bac Ha's main industries is the manufacture of alcoholic home brews (rice wine, cassava wine and corn liquor). The corn hooch produced by the Flower H'mong is so potent it can ignite! Bac Ha is the only place in Vietnam where you'll find this particular moonshine; there's an entire area devoted to it at the Sunday market. Swill some down before deciding whether to buy a buffalo or cow.
Bac Ha market

Nestled in the northern hills of Vietnam exists one of the best ethnic markets in all of Southeast Asia! On Sundays, the ethnic minorities from the surrounding villages and hills come by foot, by motorscooter, by horse, and by water buffalow for their chance to socialize, eat, drink, smoke, get a haircut, and buy produce and meat for the next week. It is a blur of colorful plaids and stripes.


It's a 3 hour harrowing ride from Sapa, but once you arrive there in one piece, it's a true experience of local culture. On any Sunday you can catch/hire a minivan from Sapa to drive you through some of the most stunning countryside that Vietnam has to offer. Rice terraces that look as if you drove into a postcard and then you start climbing up high into the hills on little one lane roads holding your breath around every corner.


This is not a market for tourists, in fact they hardly even notice that you are there. Sure, people do try to sell you things, but it's low pressure and really secondary to them as the market is not abut souveniers. Come with a tough stomach as you will see a bit of everything in the market - and if you are brave you can taste anything too which I highly recommend - followed by a stiff shot of homemade rice whiskey that is sure to kill any bacteria that you take in. Each section is more interesting and photographic than the next - including the live dog and pig market - and no they aren't selling them as pets.