Savannakhet Travel Guides
Savannakhet is the most populous province in Laos and regarded as a very active place for communication and commerce between Thailand and Vietnam (via Vietnamese border town of Lao Bao). Most people living in the province are Lao Lum,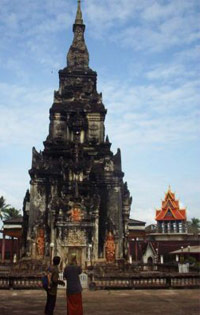 Thai Dam, Phu Thai, some of the Mon-Khmer groups.

Savannakhet town is on the banks of the Mekong River opposite Mukdahan town in Thailand. Most parts of the province are low land with some agriculture plots in the north and east of Savannakhet city. Savannakhet has a couple of temples and stupas, but mostly offers a way to get even further off the beaten track. If you want to enter Thailand you have to cross the river between 8:30 am and 5 pm. A ferry brings you to the Thai side. No special permission is necessary.
Normally, Savannakhet is just a place where people get on or off the buses to other places such as the ruins of Wat Pho near Champasak or Vietnam.

The town itself can be easily explored by foot and has a number of interesting temples, including Vietnamese temple and school and a large Catholic church. Much of the town's architecture is French Colonial. Numerous examples of French architecture tell of the town's importance during the colonial era.

The most beautiful part of Savannakhet is Wat Sayaphum, with its tranquil grounds just across the ferry terminal road from the Mekong. It dates from the end of the 19th century and much of it has been restored to house a large resident population of monks and novices and provide secondary education for day pupils as well as its own